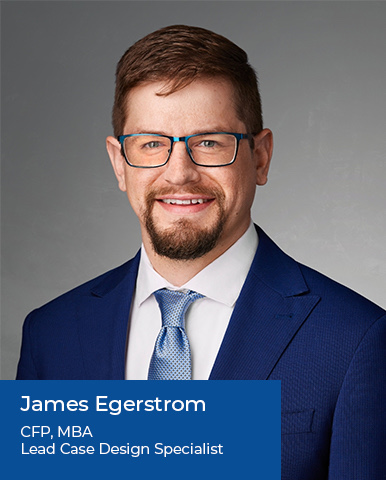 Lead Case Design Specialist
James is Confidence Wealth Management's lead financial planner in charge of the design, creation and finalization of clients' master financial plans. He is responsible for analyzing clients' complex situations, strategizing new approaches to each financial plan, running back-end projections and calculations, and developing solutions. He works very closely with the wealth managers to align the plan design with clients' needs.
James received his bachelor's degree in Business Management Economics from UC Santa Cruz. He then immediately transitioned into a role with Wells Fargo where he quickly took over a branch manager role in San Diego. He had a brief stint with JP Morgan Chase where he finished his investment licenses (series 6, 7, 63 & 65) before transitioning to a Senior Financial Consultant with TD Ameritrade. During his tenure with TD Ameritrade, James attended California Lutheran University in Thousand Oaks to obtain his MBA and finish the required CFP® coursework. He completed the CFP® exam shortly thereafter. Prior to joining Confidence Wealth Management, James worked for a multi-family office in Newport Beach where he specialized in complex financial planning for high net worth families.
James has been working in financial planning and advisory services for about 10 years and has helped hundreds of individuals and families plan for their future goals during that time.
In his free time, James enjoys spending time with his wife, Elaine, and dog, Jake. He contends that if he did not go into finance, he would be a marine biologist and currently maintains multiple aquariums. He also enjoys woodworking and almost any sporting activities.